Deadly. Dangerous. Dedicated.
Two formidable souls walk one path. They have been this way before. They are guardians, pledged to protect a young summoner on her dangerous pilgrimage to defeat the monster called Sin. Of all Lady Yuna's guardians, Sir Auron and Lulu are the most experienced and have tasted loss most often.
Lulu, a young woman in her early twenties who was orphaned at age 5, is a seasoned guardian of two pilgrimages who has yet to reach journey's end. Wielding a fearsome arsenal of dark magic, she is a sharp-tongued mentor to the younger members of her party, surrogate big sister to Yuna, called "grumpy" or "scary" by her friends. She considers dwelling on the past to be pointless and sad. "No tears," she tells Yuna. Lulu's life is a pilgrimage of death. A lover killed by Sin and a slain summoner are behind her. Ahead lies a journey that she expects will claim Yuna's life, and perhaps hers as well.
Lulu: I hope you hurt them.
Yuna: A little!
Sir Auron, 35, yet strangely aged by his journeys, is known throughout the lands as the Legendary Hero. He earned his famous reputation as guardian to Lord Braska, Yuna's father who banished Sin ten years ago and ushered in a decade of peace. Auron can slay dragons with a single sword-swing, but the warrior monk could not save Braska's life. Now he follows another summoner down the same path. He serves as a role model to the younger guardians and guards his secrets closely. Death walks in his footsteps.
"Legendary guardian? I was just a boy.
A boy about your age, actually.
I wanted to change the world, too.
But I changed nothing. That is my story." ~ Sir Auron
Now that you've met our heroes, you are ready to explore this Auron/Lulu fansite. Use the navigator bar at top or bottom to browse fanworks by me or other Aulu fans. Or visit the Aulu Livejournal Community to discuss Auron & Lulu and share your own fanwork! ~ Helluin
Disclaimer: This is a fansite. The characters and world of Final Fantasy X are the creation and property of Square-Enix, Inc. See the Official Final Fantasy X Website for information, previews, and news about this game and its sequels.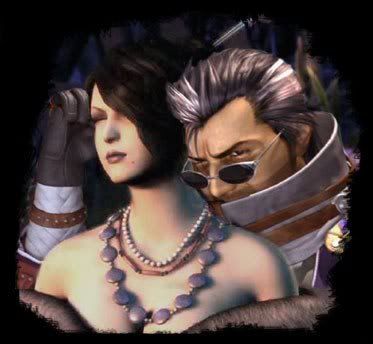 P.S.: "Helluin" is my old fanfic penname. I've now adopted "Auronlu" on LJ and elsewhere, but I'm using my old handle here to avoid confusion between me and the site name!